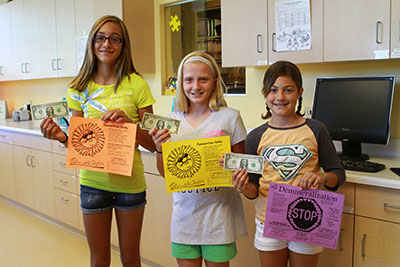 Tours
Our practice is open to parents and children for tours. During this time, the children and parents are introduced to the dental office environment in a friendly manner. Our specialized staff is available during this time to introduce the children to a typical dental appointment.
Utilizing props, puppets, and stories, the children can interact with the staff. Emphasis is placed on home dental care and diet. Rides are given in the chairs, along with introduction to the basic dental instruments.
At the end of the tour, each child is given a bag with a toothbrush, flossers and information regarding diet and dental hygiene.
Mommy and Me
Mommy and Me groups are encouraged to call for our trained staff to visit with them at their special classes. The same information discussed during office tours is emphasized in the more casual Mommy and Me classes.
Parents are encouraged to ask questions about any concerns they may have. Each child is given a special bag with a toothbrush, flossers, and informational pamphlets.
Local Schools
Popular primarily during Children's Dental Health month in February, teachers may call our office to book a day with our hygienist. We come to your classroom and have fun with an interactive presentation designed for your class.
The preschool through first graders think we are just the coolest with our "sugar bugs" skit. Again, props and puppets are utilized in this fun interactive lesson.
Also, here at Newbury Park Dentistry for Children, we love to support our local school events. A favorites are Silent Auctions and Jog-a-thons!